"It's healthy, it's crunchy, it's delicious, but it's monotonous", this has been the complaint of every person who wants to eat white radish. Despite being the most recognized variant of the humble root, white radishes struggle to find a place on a plate.
The white radish packs a punch of health, flavor, nutrition, fiber, and low calories full of nutrition and numerous benefits. Despite these properties, white radishes have been limited within certain recipes, barring them from culinary experiments.
From the kimchi in Korea to the Indian flatbreads, we bring you ten unique white radish recipes to inspire the chef in you.
1- Radish Kimchi
If you have not been a big fan of the regular cabbage-based kimchi, white radish kimchi is here for you to reconsider. The crunchy texture and sweetness of the white radish make it a perfect fit.
Here is our version of this long celebrated Korean dish. 
Radish Kimchi
Radish kimchi goeswell with beef stews and soups, pork ribs, spicy crispy chicken, and the likes.
Equipment
Peeler

Mixer-Blender

Microwave

Glass Jar
Ingredients
Main
1

Kg

White Radish

3

Stalks

Green Onions

2

tbsp

Salt

3

tbsp

Brown Sugar
Base
1

tbsp

Red chili flakes

Brown Onion Paste

Garlic

Minced

Ginger

Minced

Rice Porridge
Instructions
Thoroughly wash and peel the white radish. Cut it into evenly sized squares (they can be big or small depending on how you like them). 

Add salt and sugar to the radishes and leave them for an hour at room temperature.

Mix all the base ingredients. You can blend them in a mixer for a smoother consistency. 

 For the rice porridge: Mix rice flour with some water, microwave for a minute, and mix it quickly. 

Wash the radish cubes thoroughly with ice-cold water. Do it several times. 

Add the radish pieces to the base.

Add the chopped green onion stalks.

Leave the radish kimchi at room temperature for 24 hours.

Take a glass jar and add the kimchi to it. 

Refrigerate and consume when desired.
Video
Notes
The sweet crunchiness of the radishes works as a cooling agent for hot meats. You can also add apples or pears to this mix. 
This radish kimchi goes well with beef stews and soups, pork ribs, spicy crispy chicken, and the likes. The sweet crunchiness of the radishes works as a cooling agent for hot meats. You can also add apples or pears to this mix. 
2- Pickled Radish
This recipe is by far the best white radish variant there is. It is quick and easy to prepare and stays good for as long as three months. 
For our version of this dish, you will need:
Ingredients
Radish 500g

1 cup of water

1 cup of sugar

1 cup of apple cider vinegar

A pinch of salt

5 Cloves

2 Bay Leaves

Cinnamon (1 stick)
Method
Take a large saucepan and add water, sugar, vinegar, salt, cinnamon, bay leaves, and cloves. 

While the mixture is left to boil, cut, cleaned, and peeled radishes into juliennes. You can also add carrots or apples to the pickle.

Place the radish in an airtight glass jar.

Strain the pickling liquid and pour it on to the radish in the jar.

Leave the jar for 3-5 hours to bring the pickle to room temperature.

Refrigerate for at least an hour before serving.

The pickle can stay good for over a month. Use a sterilized container if you wish to preserve it for months.
This pickle goes with any dish vegetarian/nonvegetarian. The vinegar helps break down the sugar and lends a familiar sour taste. The good bacteria from this dish are a great source of health. 
3- White Radish Stuffed Parathas/Flatbreads
This recipe is one of the most popular winter radish dishes in India. The recipe uses the mild pepperiness of the vegetable and brings variety to the breakfast table. In a nutshell, this recipe is just about stuffing the good old white radish into some flatbreads and frying them in ghee (clarified butter) or regular butter.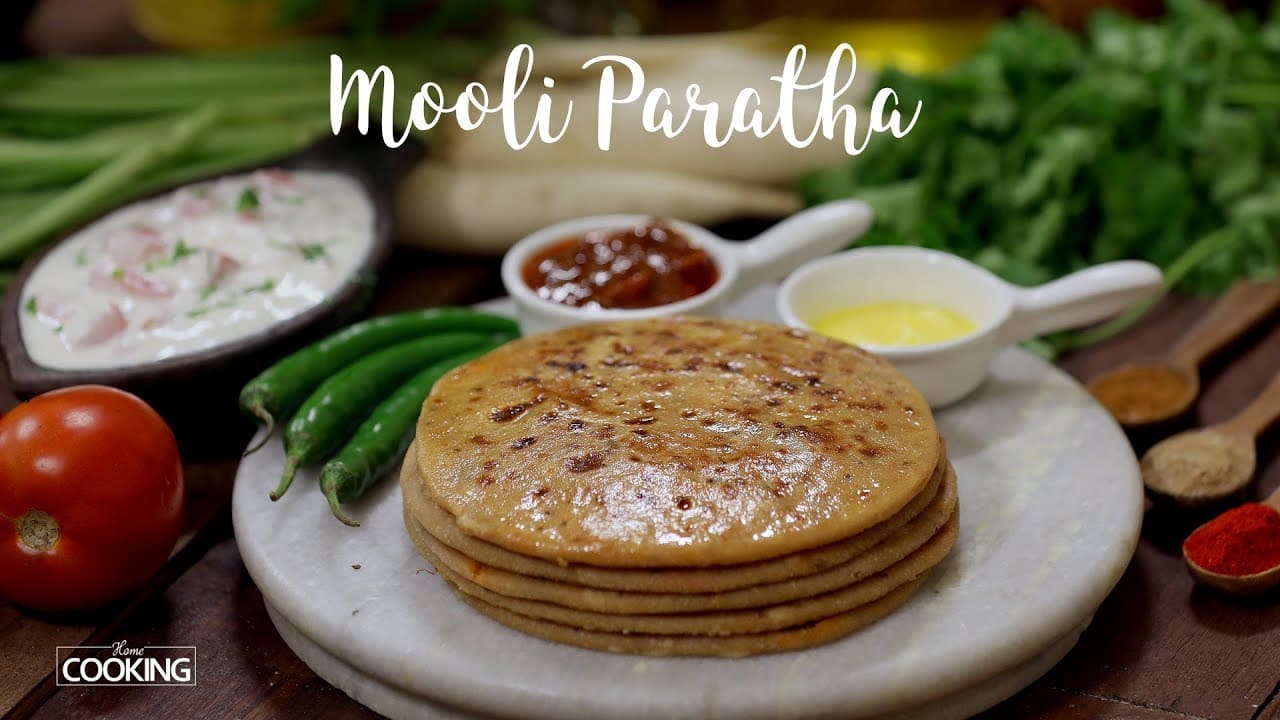 Here is our step by step recipe. 
Ingredients
White radish 300g

3 Finely chopped green chilies 

Salt to taste

1/2 teaspoon pepper

1/2 teaspoon carom seeds

1/2 red chili powder

Ghee (for cooking the bread)

Whole wheat flour 350g

A tablespoon of chopped coriander
Method
Wash the radishes thoroughly and peel. Take a box grater, hold the white radish at a 45-degree angle, and grate. Add a teaspoon of salt to the grated radish and leave it for 15 minutes.

Squeeze all the water out of the grated radish until dry. Preserve the water for the dough. Add the salt, red chili powder, pepper, and green chilies to the grated radish.

Add the carom seeds, salt, and a teaspoon of ghee to the flour. Use the radish water and regular water to bind the flour into a soft dough.

Take a small portion of the dough. Roll it into a ball. Now roll it into a round circular thin bread. Place a portion of the radish mix at the center of the bread. Gather all the sides and seal. Now roll it into a bread.

Make more stuffed flatbreads using the same method.

Heat a nonstick pan on the burner. Place the paratha on it and brush some ghee on both sides as you cook. 

Serve hot parathas/flatbreads with a cool yogurt dip.
As a popular winter meal, these parathas work as a fantastic breakfast/brunch/lunch option. They are healthy and filling.
4- Thai Radish Salad
Radishes usually feature as garnishes or as any other ingredient in a salad. This recipe is a take on challenging these conventional uses of radishes in a salad. If you are familiar with the spicy Thai papaya salad, this is our version using radishes.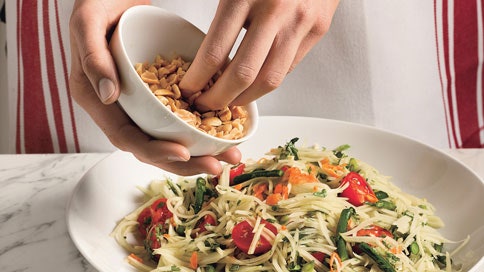 Ingredients
Dressing
5 tablespoons of fresh lime juice

3 tablespoons of palm sugar or brown sugar

3 tablespoons of fish sauce

4 minced garlic cloves
Main
One large cup of white radish, julienned

Half a cup of cooked green beans

Half a cup of cherry tomatoes

Half a cup of finely chopped cilantro

Half a cup of thinly sliced onions

One teaspoon chopped red chili

Coarsely chopped salted peanuts
Method
Combine all the salad dressing ingredients into a medium-sized bowl and mix well.

Add all the vegetables into a large salad bowl.

Pour the dressing over the vegetables. Mix well.

Add the roasted peanuts and mix again.

Serve immediately.
We promise you that this one is an absolute ripper. This version of a Thai style white radish salad will be the perfect sweet, tangy, and spicy treat you need on your dinner table every day. 
5- Roasted White Radish
If you are bored eating raw radish every day, this recipe will come to your palette as a flavor bomb. The method is simple.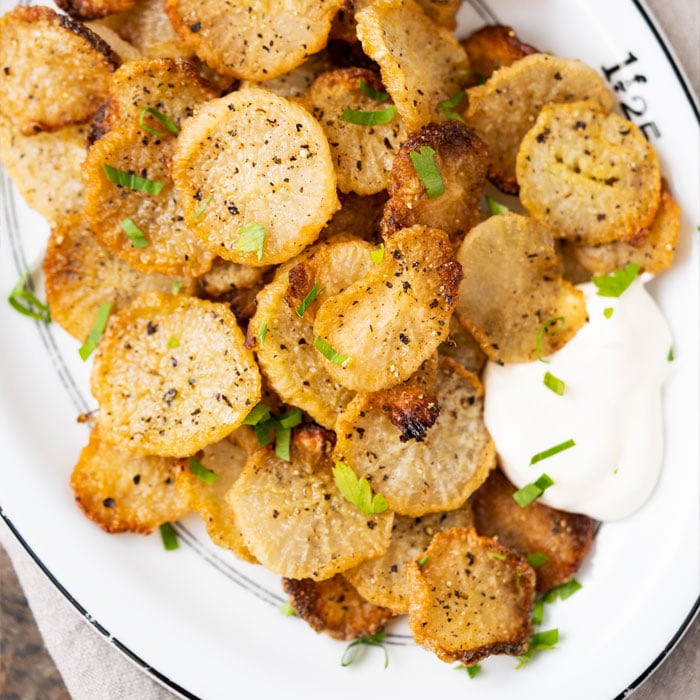 Ingredients
White radish 1kg

Olive oil

Salt to taste

Rock salt to taste

Cracked Pepper 
Method
Wash the radish thoroughly and peel it (peeling is optional).

Preheat the oven to 250 degrees (Celcius)

Mix the seasoning with the oil.

Massage the radish with the flavored oil.

Line a baking tray with aluminum foil.

Place the radishes on the foil.

Bake at 200 degrees for 40-50 minutes

Serve immediately
This is by far the healthiest snack or side dish one can have. The recipe requires minimal oil, and the salt and pepper help bring out the sweetness of the white radish. 
6- White Radish Cake
Deemed as the king of radish recipes, this white radish cake will take you by surprise. What's most appreciated about this cake is its low-calorie, high-fiber quality and the fact that one can indulge guilt-free
Here is our version of the cake
Ingredients
Stir Fry
600g daikon radish

40g shrimps

30g shiitake mushrooms

20g green bell pepper

20g red bell pepper

20g yellow bell pepper

20g orange bell pepper

50g beef sausage
Batter
1/2 cup rice flour

1/2 cup cornstarch

1 tsp pepper

1 tsp garlic powder

1 tsp onion powder

1 tsp sugar

1 cup of water

4 tsp of sesame oil

salt to taste
Method
Stir Fry
Place a wok on the burner and allow it to heat up.
Add oil and immediately add finely chopped ginger and garlic.

Add the vegetables and stir constantly.

Add the prawns.

Finally, add the sausages and season with salt and pepper.

The oil releasing from the fat of the sausage will add more flavor to the dish. 

Remove the stir fry to a plate and set it to rest.
Cooking the Daikon
Add the grated daikon into a pan and cook on a low flame until the water dries out (this step is crucial). 
Ensure that the mixture is moist but does not have any water; the cake will be too wet otherwise. 
The process should take about 10 minutes. 
The daikon will be translucent by this time. 
Add the stir fry into the pan and mix with the radish.
The Batter
Rice flour is the primary ingredient for the radish cake batter. It gives the cake its structure. Wheat, potato, or tapioca starch add to the cake's binding and are often a part of the recipe. We recommend adding cornstarch to the mix. The cornstarch keeps the cake soft. Use cornstarch especially, if you wish to pan fry the cake later. It helps crisp up the cake pieces. 
For the batter:
Take rice flour and cornflour in equal parts.

Season the flour mix with salt, pepper, garlic powder, sugar, and onion powder.

Gradually add cold water and stir continuously.

The batter must be smooth and lump-free.

It should have a pouring consistency.
The cake mix:
Do not mix the stir fry into the batter if it is hot or warm. It will begin to cook the batter and turn it into a sticky mess.
Once cooled down, add the stir fry into the batter.
Fold and mix gently. Do not over mix.
Traditional Version
Brush the surface of a cake pan with some oil
Pour the batter and level the top.
Place a steaming rack in the center of a wok.
Pour enough water in the wok till it reaches the top of the rack.
Remove the rack and bring the water to a boil.
Place the rack back into the wok and set the tin on it.
Steam the cake for 30 minutes on medium flame.
Insert a skewer in the center of the cake. If the skewer comes out clean, the radish cake is ready.
The Cheat Version
For those who lack the patience to slow-cook the cake in a wok, here is a method that will help you cook the cake faster. 
Brush oil on the surface of a microwave-safe tin.

Pour the mixture and cover it with aluminum foil.

Place the tin in the microwave and cook it on high for 8 minutes.
Your radish cake is ready. 
For Crispy Pan Fried Cake
Cool the cake once cooked.

It is most advisable to refrigerate it for as long as possible (preferably overnight).

Unmold the cake and cut it into squares. 

Pour some oil over a hot pan and add the cake pieces.

Cook on both sides until brown and crispy.

Garnish the radish cake pieces with spring onion greens and serve immediately.
The radish cake goes well with a spicy sauce or a barbeque beef/pork bun. 
7- Chicken and White Radish Soup
Mixing protein with vegetables is an age-old tradition. It's wholesome, filling, and healthy. This chicken and radish soup will help you with the same.
For our version of this soup, you will need
Ingredients
1-liter chicken broth

One small cup of boiled shredded chicken

1 cup white radish (julienned)

1 cup carrots (julienned)

1 cup mushrooms (julienned)

1 cup capsicum (green-julienned)

1 cup finely chopped onion

1 cup finely chopped garlic

1 cup finely chopped ginger

1 cup finely chopped coriander

1 teaspoon cayenne pepper

1 teaspoon white pepper

1 teaspoon dark soy sauce

Salt to taste
Method
Bring a liter of chicken broth to a boil

Add finely chopped ginger and garlic

Add the soy sauce

Add the vegetables

Stir and bring the soup to a boil

Add the boiled chicken pieces

Add the cayenne pepper, white pepper, and salt

Adjust the consistency of the soup with warm water (if needed)

If you needed a thicker soup, mix two tablespoons of cornflour with two tablespoons of water and mix into the soup for a thicker consistency.

Serve warm with some garlic bread on the side.
This one is the perfect recipe for a cold winter night.
8- Vegan White Radish Spring Rolls
If you love a crispy snack with a hit of spicy sauce, this is the recipe for you. These delicious radish spring rolls work as a great appetizer for parties and events. Moreover, you can prepare them beforehand and freeze them. They can be baked, air fried, or deep-fried later. 
For making these radish spring rolls, you will need:
Ingredients
1 cup daikon (white) radish (julienned)

1 cup carrots (julienned)

1 cup mushrooms (julienned)

1 cup mixed bell peppers (julienned)

1 cup red onions (julienned)

1 cup cabbage (shredded)

1 cup shredded beef 

1 teaspoon black pepper

1 teaspoon dark soy

1 teaspoon light soy

1 teaspoon green chili sauce

1 teaspoon red chili sauce

1 teaspoon vinegar

1 packet spring roll sheets

Oil for frying

Salt to taste
Method
Place all the vegetables in a bowl.

Add the soy sauces, red and green chili sauces, and vinegar into the bowl.

Season with salt and pepper

Add the beef and mix well.

Place a small portion of the mixture onto a spring roll sheet

Roll the sheet and secure from all sides

Heat oil in a pan

Fry the spring rolls on a medium heat

Top with some spring onion greens

Serve hot with schezwan sauce
This is a perfect snack or appetizer to go with your cocktails or drinks.
9- Raw Radish Side 
This has to be the quickest, think-on-your-feet kind of recipe. All you need to do is take some washed and peeled white radish. Cut it into equal-sized cubes. Season with salt and a dash of lemon juice. Top with some finely chopped radish leaves, and you are good to go. Isn't this the easiest fuss-free recipe ever!
10- Radish Soothing Tea
This one is for those looking to build their immunity or need instant relief from a nagging cough or cold. This white radish tea is a tried and tested formula for recovery from fever and flu.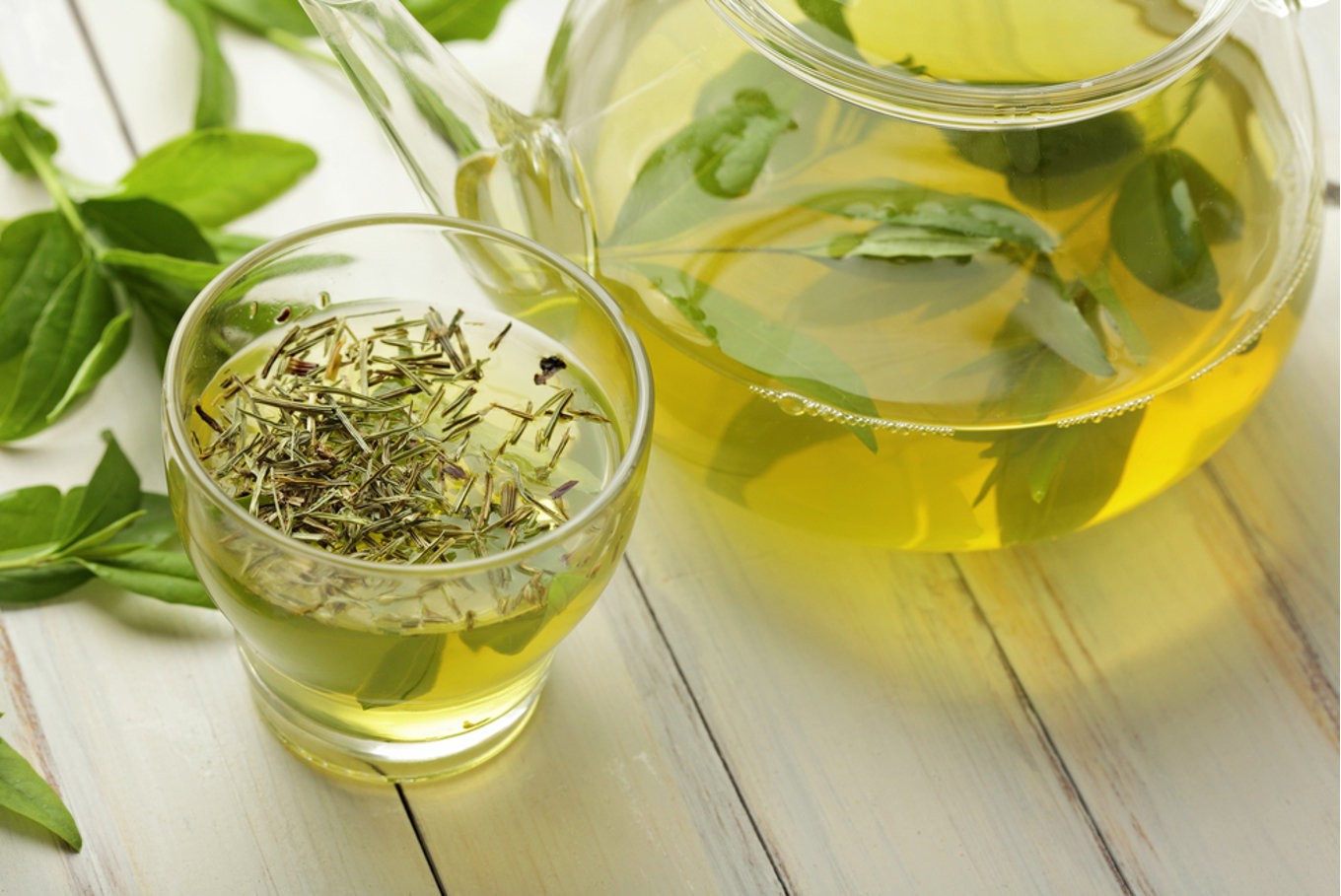 Method
Add some radish juice and radish leaves to a pot of boiling water.

Add crushed ginger, lemon, and whole peppercorns to the mix.

Brew the liquid for 20 minutes.

Pass the tea through a strainer and pour into a cup

Add a teaspoon of organic honey.

Serve hot
This radish tea has medicinal properties. Consuming it three times a day helps fight against flu and several infections. 
Before You Turn The Burner On
If you still struggle in experimenting with white radishes, remember that consistency wise, they are quite similar to carrots. You can use radishes just as you'd use carrots. They will lend a peppery sweetness giving more depth of flavor to your dish. Do not be intimidated to experiment with radishes.